International Epilepsy Day (Machakos County) 2023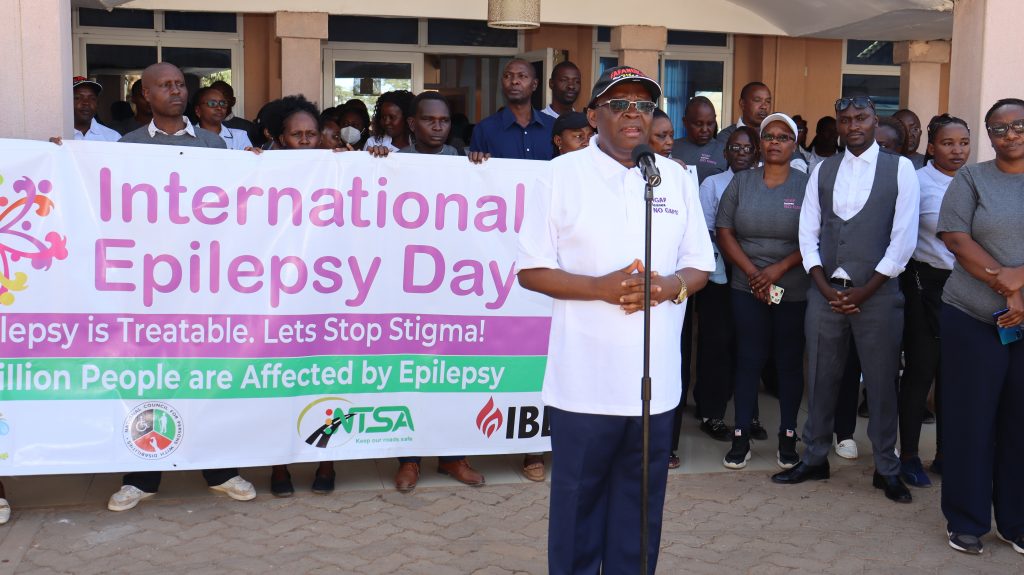 KAWE commemorated International Epilepsy Day 2023 in Machakos County on 13th February with the theme 50 Million Steps Against Stigma. KAWE has an MOU with the County which was signed in the presence of Dr.Daniel Yumbya, EBS-County Executive Committee Member (CECM), the County Health Management Team, and the KAWE team led by the Chairman, Dr.Osman Miyanji on 23rd Jan 2023.

The MOU is the foundation set for the domestication and ratification of IGAP. The aim is to bridge the epilepsy treatment gap through a community participatory approach. Working with communities to bring awareness to ensure that people with epilepsy are in a more inclusive society where barriers like access to treatment, medication, and accurate knowledge on epilepsy are available for target stakeholders. The CECM during his flag-off speech emphasized the importance of communities embracing persons with epilepsy in order to reduce stigma in the society. By working with motorbike 'bodaboda' operators for Epilepsy Awareness, we aim to inform them about road safety to reduce the incidents of new cases of epilepsy related to Road Traffic Accidents. The steps covered accumulated to 1.5 million. 32 persons with epilepsy were part of the commemoration which also included the demonstration of first aid in epilepsy. The Director of Medical Services, Dr. Sharon Mueni, invited patients to be seen at The Machakos Level 5 Hospital, Out Patient Clinic on Wednesday for epilepsy management.
We would like to thank H.E the Governor of Machakos County, Honourable Wavinya Ndeti, The National Council for Persons with Disabilities (NCPWD), The National Police Service, and the general public at large for helping to stamp out stigma in Machakos County.
Intersectoral Global Action Plan and other neurological disorders (IGAP).
Increased KAWE and its partners jointly advocate for;
90-80-70 cascade target for epilepsy, an action plan that addresses challenges and
gaps in providing care and services for people with Epilepsy and other
neurological disorders that exist and ensuring a comprehensive, coordinated
response across sectors.
Increased public and professional awareness about epilepsy
KAWE and its partners jointly advocate for
Improved diagnosis through training and enhanced specialist networks
Harmful myths replaced with an understanding that epilepsy is a treatable brain disorder
Strengthened, sustainable essential medicine supply chains
Proper financing and pricing to ensure that anti-seizure medicines are affordable
Reclassification of certain anti-seizure medicines to allow production and importation
Investment in primary and community care and support
People with epilepsy are informed, engaged, and empowered
Continued research to improve treatment options.
It also creates a good link between the community members and the health facilities for the people with Epilepsy as well as enhances management, treatment, and sustainability at the point of care.
Cassidy Megan from Nova Scotia, Canada, founded Epilepsy Awareness Day with the first event held on March 26, 2008. Motivated by her own diagnosis and struggles of living with epilepsy, she realized the importance of everyone understanding this common neurological disorder. She created an avenue for people to learn, engage, and support the public's education of epilepsy as well as dispel the myths and fears surrounding it.
 Epilepsy is caused by electrical disturbances in the brain resulting in seizures of various types. It can be a scary condition to people who do not understand what is going on, which has led to many unnecessary assumptions and even laws about the disease and the capabilities of those who live with it. It's the fourth most common neurological disorder after migraines, strokes, and Alzheimer's. Estimates show that one in 26 Americans will develop epilepsy at some point in their life. 
 In 2009, the Anita Kaufmann Foundation partnered with the Epilepsy Association of Nova Scotia to launch Purple Day, bringing more collective attention and structured campaigns to the purpose of the day in the U.S. and internationally. Over 100,000 students, 95 workplaces, and 116 politicians participated in Purple Day events that same year. 
 The Anita Kaufmann Foundation trademarked Purple Day in 2011 and it has continued to expand its reach since.
The clinic was launched on the 19th of October 2021 with the partnership of the Irish Embassy, the Ministry of Health: Dr. Musa Mohammed (Deputy Director of Medical Services), Dr. Victor Kibe (MOH-NCD Division), Dr. Judy Gichuki (Starehe Sub-County DMOH) with other Nairobi Metropolitan Service (NMS) representatives. KAWE was represented by Dr. Osman Miyanji, (Chairman), Mr. Patrick Ngechu (Program Coordinator), KAWE staff, and volunteers. Ms. Joyce Lukiri, (In Charge-Huruma Lions Facility). Community Health Workers of Starehe Sub-County were also represented. The theme was 'Promoting Accessibility of Health for People with Epilepsy'. The launch began with a skit by the Community Health Workers where they were able to demonstrate epilepsy themes that included discrimination and stigma, how to deliver first aid with some wit, humor, and songs. Thereafter, representatives from the Chiefs and Ward Administrators'office sent their congratulatory messages and reiterated the commitment to better services and fruitful partnerships to improve service delivery.
The well-equipped facility with amenities like water and electricity and a new waiting bay will improve privacy for patients, create a safe working environment for staff as per the Covid19 MOH guidelines, create adequate storage space for filing and facilitate proper data collection on CDMS.